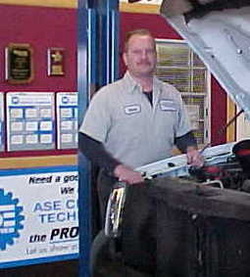 Always remember that car repair help is available for professional technicians as well as do it yourself driveway mechanics. Yes, even professional mechanics like myself with 30 years of hands-on experience need help with specific model car repair at times.
It is not a sign of weakness it's just the reality of the complicated vehicles on the road today. In the wrench turning business we call them hotline services. They provide answers to car problems by telephone or email. This kind of support has been around for decades and they're still around today for independent shops and dealerships.
Auto Repair Help for Mechanics

This type of auto repair help is most common at the dealership level where the manufacturers provide help by telephone for their factory trained technicians.
It's the manufacturers responsibility to make sure their service departments are able to satisfy their customers by fixing cars. This is critical for customer retention which is the most important function of any service department. Some manufacturers also have a phone modem system to transmit computer information right to the support center.
Expert Auto Repair Tip:
Take it from someone who knows...Having the
online repair manual
is a life-saver when it comes to DIY auto repair and maintenance. Whether you are working on a
Ford
,
BMW
,
Dodge
, or something more exotic; we probably have the manual you need.
The vehicle's diagnostic system is connected to this modem, and uploaded to the assistance center. Even independent auto repair shops are able to get repair information and guidance by phone. These are usually expensive subscriptions that will guarantee a resolution to the individual auto repair shops, car repair problems. Sometimes this service is nicknamed as the last chance garage.
Car Repair Help for the General Public
As do-it-yourself car repair becomes more popular so are independent car forums. Some of these automobile forums, allow owners to post auto repair questions and then the online community will post answers to that question. The problem with this method is that the people that answer the questions may have good intentions but may not actually be knowledgeable about the subject.
The old saying is if you want good information, you have to pay for it. And this may be the case. If you go onto an automotive forum and post your car repair question you never know who will be answering that question or if they are steering you in the right direction. I belong to a car repair forum that is a completely different. The mechanics that answer the car questions are tested and registered with the service before they are allowed access to the message board.
If they claim to be a certified mechanic they must present those documents before they can make these statements. The service is completely free for do-it-yourself auto repair mechanics to post questions. It is asked that you pay between five and $10 to the professional technician that actually helps you fix your problem. This means that you do not pay them unless you are completely satisfied.
To find out more about this service and to submit a automobile repairs question, visit my secure page that contains a online submission form and offers high quality car repair help. For more information about what is covered on this unique automotive repairing website visit the homepage. You can also find out more about the Certified Master Mechanic that put together this online auto repair site.