Today I am posting the belt diagram for the Cadillac V-8 specifically the 4.6 L engine. In the Cadillac world this engine is nicknamed the Northstar. From what I can tell this belt diagram will work on other Northstar series V-8 engines regardless of the displacement.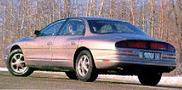 For a very short period of time the Cadillac V-8 could be found in some Pontiac's, Buick's and Oldsmobile cars like the Oldsmobile Aurora as 4.0 L V-8. I happen to be a big fan of this engine because of its tremendous power to weight ratio. My first vivid memory of this engine was when it first came on the scene in 1993 installed as the only option on the brand-new Cadillac Allante. I have a full size picture of the Mary Kay Pink Cadillac below.

Without further delay here is your belt diagram for the Cadillac V-8 4.6 L Northstar engine. I hope you click the read more button and see why I like this engine and learn a little more about the history and future of it.
Cadillac V-8 belt diagram 4.6 L