Below is a picture of the Chevrolet V6 belt diagram. This is for the 4.3 L V-6 Chevrolet engine. This happens to be the same engine that is in my own personal vehicle which is a 2004 Chevrolet Blazer ZR2.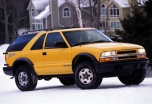 2004 Chevy Blazer
The 4.3 L V-6 has been around for a long time. In fact I probably should have done some research on just how long. But I do not that this engine has been around since at least the mid-80s and I believe it was discontinued in 2005 in favor of the Isuzu line of engines.
Of course in the mid-80s there were several v-belts instead of the one serpentine belt assembly that are on the more modern engines. I thought that I would be able to go out to my vehicle and take a picture of the Chevrolet V6 belt diagram. To my surprise it was missing.
Expert Auto Repair Tip:
Take it from someone who knows...Having the
online repair manual
is a life-saver when it comes to DIY auto repair and maintenance. Whether you are working on a
Ford
,
BMW
,
Dodge
, or something more exotic; we probably have the manual you need.
Since it is missing on my 2004 model year Blazer I figured it would be a good idea to post one for the convenience of site visitors.
Chevrolet V6 belt diagram 4.3 L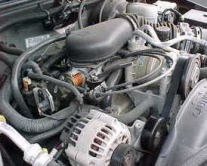 My 4.3 Chevrolet V6
Here is a Funny story about my own drive belt problems with my Blazer. The original drive belt lasted a good long time and it never made a squeal squeak or any kind of annoying sounds. During my last oil change I noticed that there was a lot of cracking on the belt.
Since my truck is about six years old I figured I would treat it to a replacement drive belt. Normally I would get my replacement parts at a dealership because I do like to use factory replacement parts. But out of convenience and low funds I went to the local parts store for my oil change stuff and the new drive belt.
The local parts store only had one brand to choose from for replacement serpentine belts. This was a made in China part. But since it was about $13 I decided to go for it. There was no problem after the initial replacement. About two weeks later an intermittent squeaking sound started coming from the drive belt.
The intermittent noise turned into a constant noise. I inspected the drive belt pulleys and tensioner and all looked perfect. I decided to order a Goodyear gator back belt which happens to be my favorite replacement aftermarket brand. I installed the Goodyear belt and the noise was gone and has been for a couple of months.
For those with the Chevrolet V6 engine especially the 4.3 L I do not recommend any made in china replacement belt. I don't know if it's the quality of the rubber but when you compare it to the Goodyear belt there is really no comparison. The Goodyear replacement belt is thicker and heavier but more important on the face of the ribs is almost like a felt like material that is perfect for silencing noisy drive belts.
For more information on things to look for during belt replacement visit my engine belt diagrams page. This next link will take you to latest posts to the online auto repair blog from this page about Chevrolet v6 belt diagrams.