The 4 liter Ford belt diagram is another one that is hard to do without. Lots of pulleys and a somewhat odd belt routing make it hard to get the belt back on without a diagram. The 4.0 Liter Ford engine is a popular engine and most commonly found in the Ford explorer.

96 Ford Explorer
Engine belts are important anytime of the year and not just on the 4 liter Ford engine. In my opinion the summer months put the most stress on your drive belts. When outside temperatures are over 100 degrees it is this rubber drive belt that provides air-conditioning to the interior compartment and coolant flow to the engine via the water pump.
When the serpentine belt breaks on a cold winter day the outside temperature may allow you to drive to the nearest service center. On a hot summer day when this happens if you don't pull over quickly and turn off the engine serious damage could occur. So print out this 4 Liter Ford Belt Diagram and throw it in a storage compartment along with a new serpentine belt and the needed tools.
4 Liter Ford Belt Diagram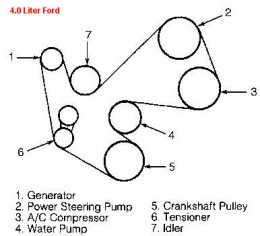 Expert Auto Repair Tip:
Take it from someone who knows...Having the
online repair manual
is a life-saver when it comes to DIY auto repair and maintenance. Whether you are working on a
Ford
,
BMW
,
Dodge
, or something more exotic; we probably have the manual you need.
4.0 Liter Ford V6
Belts are used to drive water pumps power steering pumps, alternators, and air-conditioning compressors as well as air pumps and other emission controls on some vehicles. This is also one part that is often neglected by the typical motorist. It is very rare that someone will take the extra effort to check this vital component before heading out on the road trip in the middle of summer.
Checking engine drive belts
Not only should the belt be inspected for wear, cracking and damage from external debris but the tension of the belt should be checked as well. Insufficient tension may allow the belt to roll off of a pulley or not turn it efficiently due to poor contact.
Over time serpentine belts will stretch and lose their tension. To compensate for this the 4 L Ford engine has an automatic belt tensioning system that is spring-loaded so that the right amount of pressure is applied automatically.
When this spring starts to wear then looseness can develop. In many cases the first signs of a problem would be a squealing sound when extra load is applied to the serpentine belt. An example would be when you turn on your air-conditioning system on your explorer and then apply some RPMs you may hear a screeching sound from the slipping drive belt.
Although not common on the 4.0 L engine or the Ford Explorer on other vehicles it can also go the other way where excessive tension may put unwanted stress on the pulley and the accessories that they drive. This can lead to a belt breaking but can also lead to premature wear of the component that it drives.
For more information and pictures of popular serpentine belt diagrams visit the page that has nothing but links to engine belt diagrams. For more automotive repair information on a variety of subjects visit the blog section of this online auto repair website. This next link will take you to the recent posts listing area from this page about the 4 Liter Ford Belt Diagram.