For the last five years I have been a Fleet maintenance technician. This has probably been one of the best jobs I have ever had. It may not be the most fun but it is a good way to make a living. In my Fleet we mostly deal with trucks and most of them are domestic vehicles.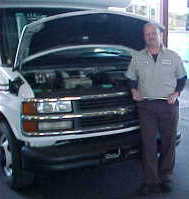 Fleet Maintenance Technician
After working on the specific vehicles for a couple of years I think it is safe to say that I am an expert on Ford, Chevrolet and Dodge pickup trucks as well as some heavy duty diesel trucks. It is not because I am smart it is because I have not worked on anything else for several years.
Expert Auto Repair Tip:
Take it from someone who knows...Having the
online repair manual
is a life-saver when it comes to DIY auto repair and maintenance. Whether you are working on a
Ford
,
BMW
,
Dodge
, or something more exotic; we probably have the manual you need.
In fact after replacing the water pump on a 7.4 L power stroke diesel ford engine for the 10th time not only can I do it quickly I could just about do it with my eyes closed. Each time I performed the repair I would learn short cuts and better techniques for replacing the water pump on the power stroke. I was even able to stop following the procedure in the service manual.
Want to be a Fleet maintenance technician?

Any company that relies on several vehicles to do its business faces ongoing vehicle service and preventive maintenance problems. Small fleets often send their vehicles to an independent shop for maintenance and repair but this is the expensive way to do it.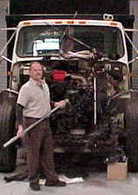 Truck Fleet Repair
Although large fleets usually have their own preventive maintenance and repair facilities and mechanics. Working for these companies can provide very reliable employment and eventually can lead to some of the best pay plans in the auto repair industry. Often fleet maintenance technicians receive pay plans with generous benefits that include major medical, vacation and sick time.
These Fleet companies normally purchased their vehicles from either one manufacturer or just a couple. This can provide deep discounts for loyalty and reduced prices for large orders. Technicians who work on the fleets are in some cases authorized to do warranty work at the Fleet shop on behalf of the automotive manufacturer.
As an example if you work in a Fleet shop that has all Ford vehicles and you perform warranty repairs you would also be qualified to work at just about any Ford dealership. When it comes to nailing down these new jobs Fleet maintenance technicians often have an advantage over other applicants that work at general repair centers.
There are many good career opportunities available in the Fleet service and maintenance aspect of the auto repair industry. Often I have seen Fleet maintenance technicians work their way up to supervisory positions as well as management positions. This is mainly because of their experience with the specific Fleet or line of vehicles.
I put together a page on my other website that will supply more information on how I started my auto repair career. For more of the latest posts on the online auto repair website stop by and visit the blog about auto repair.