If you must have a 6cyl the 4.3 L Chevy engine is a good one to get stuck with. I mean this from a strength and durability aspect as opposed to efficiency. I have a long-standing relationship with this V-6 engine.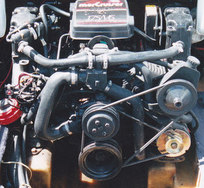 4.3L Mercruiser
The first year that I turned wrenches professionally was 1984. The 4.3 L v6 was installed in all kinds of vehicles at that time. Some notable vehicles would be the Monte Carlo and Buick regal and many other full size 80s General Motors cars. Even cars that were too big and heavy for the engine like the Caprice could be found with this
V6 option
installed. I remember popping the hood on a 1987 Chevrolet Caprice and seeing such a small engine in the big car.
I was thrilled how easy it was to work on with plenty of room all around the engine bay area. Not only did I have a vortec 4.3 L V-6 Chevy engine in my 2004 Chevrolet Blazer but I also had one of these in my boat. This was a carburetor Mercruiser version of the popular Chevrolet V6. The longer this engine was out the more horsepower it produced over the years.
It was 165 hp in 1984. In my boat (1988 Four Winns) it was rated at 175 horse power. The 2004 Chevy Blazer was one of the last years you can get this engine and it produced 220 hp. As I hinted at above these engines were solid but they were not known for their efficiency or trouble free operation. In my 2004 ZR two Blazer this engine pulled in about 12 to 14 miles per gallon. In 2008 when gas prices hit around five bucks this was one expensive truck to drive.
Problems with 4.3 L Chevy engine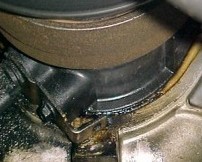 4.3L Timing cover leak
Although the engine is sturdy and I have seen many of them go well over 200,000 miles of outstanding service, most of them needed some kind of work at one time. The kind of work it would need would often correlate with the year the engine was built. In 1993 when they went to the vortex version they installed a fuel injector known as a central port injector that was troublesome. In fact the CPI would often need to be replaced.
Expert Auto Repair Tip:
Take it from someone who knows...Having the
online repair manual
is a life-saver when it comes to DIY auto repair and maintenance. Whether you are working on a
Ford
,
BMW
,
Dodge
, or something more exotic; we probably have the manual you need.
On my Blazer the 4.3 L engine sported an updated plastic timing cover. This became a problem and needed to be replaced and resealed just after the three year warranty had expired. This was a Big Job for the driveway! I had worked on many of these engines that still had the metal timing covers and I never saw one leak. And now that it's made of plastic I don't think I have ever seen one completely dry.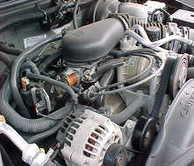 There were also several years when 4.3L V6 optioned vehicles had problems with corrosion buildup in the distributor. There was a little screen in the base plate of the distributor that would become clogged. This would trap moisture inside and you would often get corroded connections to the ignition module causing an intermittent stall or no start condition. This moisture also caused corrosion to build up on the inside spark plug wire contacts. A
technical service bulletin
was issued to make sure that the screen was clear.
The 4.3 L Chevy V-6 engine in my boat was always having problems. I replaced the starter motor and the alternator the second day I owned it. This is not really a fair test because the boat was used in the worst conditions possible. This would be the salty water of the South Florida gulf. Don't get me wrong I had a lot of fun but it was also a lot of work. But in the true fashion of this reliable V6 engine it always got me home so that I could spend more money on it.
So if you're stuck with a V6 engine the 4.3 L Chevrolet engine may make you angry a lot of days. It may cost you more fuel to operate it. Depending on the year of your engine it may leave spots in the driveway and cry like a baby for new parts. But the good news is that this engine is so strong that it will make you sorry you owned it for years and years to come. That last sentence was meant as a goodhearted poke at the 4.3 L Chevy engine that I do remember fondly.
Do you need a belt diagrams for the 4.3 liter Chevy? Or you can return to the homepage to read more stories from the blog for online auto repair.