Today I'm posting the engine belt diagram for the 3.6 L GM V-6 engines. This time it's personal because this is the option that I have in my 2009 Cadillac SRX. This happens to be the best engine I've ever owned.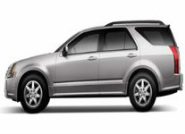 2009 SRX Crossover
I don't say this lightly. Because of my advanced age I could be considered old school and really only have respect for V-8 engines. The 3.6 L GM V-6 engines even back in 2009 came in at a respectable 304 hp.
In 2012 they were able to massage another 4 hp out of this V-6 engine to boost the horsepower to 308 making it the most powerful standard engine in a crossover. Considering the 6.6 L 400 cubic inch engine in my Pontiac T/A produced about 275 hp at double the weight you can't help but be impressed with General Motors version of this all aluminum V-6 engine.
Engine belt diagram GM V-6 3.6 L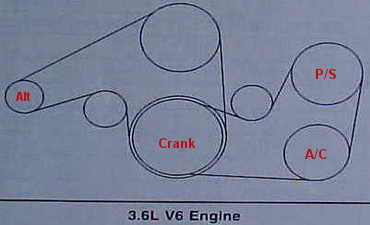 Expert Auto Repair Tip:
Take it from someone who knows...Having the
online repair manual
is a life-saver when it comes to DIY auto repair and maintenance. Whether you are working on a
Ford
,
BMW
,
Dodge
, or something more exotic; we probably have the manual you need.
Belt Diagram GM V6 3.6L
This belt diagram is not the best picture but I'm sure that you'll be able to determine how to route the belt from it. It was actually a snapshot I took of the owner's manual page they came with the car. What is interesting is that they are using separate belts for the alternator and water pump and the compressor and power steering pump.
Although the belt diagram was taken from my Cadillac owner's manual, the routing is the same on other vehicles that General Motors installed this option into. And there is quite a healthy list of vehicles that use this engine as a standard equipment options. Including the now departed Pontiac and Saturn line of automobiles.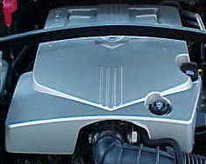 3.6L GM V6 Engine
To mention a few more of the many different models we can start with the Buick Lacrosse and the Rendezvous. We can move on to the Chevy line and include the Malibu, Impala and of course the mighty Camaro where the GM V-6 3.6 L engine is capable of putting out 323 hp in 2012 in the
LT model Camaro
.
Although this same design engine had been around as a 2.8 L for many years it became a 3.6 L in 2004 when it was installed in a Cadillac CTS as the standard equipment engine. Back then it was only in the 260 hp range. When they added variable valve timing and direct injection they were easily able to push this horsepower well above 300 horses.
The power and weight ratio of this engine is truly a design marvel. The block of the 3.6L is said to be thick enough to be punched out to a maximum of 4.0 L. This would allow room for evolution of this platform that someday may be the largest GM engine offered?
Don't quote me on this but I heard that the 3.6 engine is in the all-time top 10 engines list as far as horsepower to weight ratio along with many other criteria such as longevity and serviceability. So I posted this engine belt diagram for the GM V-6 3.6 L engine because if you own one of these motors you will probably have to install several serpentine belts on it before it goes to the junk yard.
If you're looking for another popular General Motors of V-6 engine I have the 4.3 L Chevy V6 belt diagram also available here. And for a list of all of my posted belt diagrams you can head back to the main page for engine belt diagrams. Or return to the homepage for the online auto repair blog.