Below will be a
5.7 L engine belt diagram
that you can use to get your belt put back on. Since this is one of the most popular GM motors of all times I thought it would be a good thing to post.
Picture of the 5.7 L engine drive belt diagram

This engine better known as the 350 small block is one of my favorite all-time engines. I and my friends use to joke that this engine was so popular that you could get valve cover gaskets for it in the grocery store.
Even though General Motors has moved on and replaced this engine with lighter weight larger displacement power plants the old 5.7 L remains a favorite for hot roders and truck drivers alike.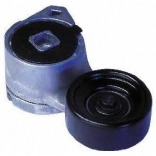 belt tensioner
Expert Auto Repair Tip:
Take it from someone who knows...Having the
online repair manual
is a life-saver when it comes to DIY auto repair and maintenance. Whether you are working on a
Ford
,
BMW
,
Dodge
, or something more exotic; we probably have the manual you need.
Note that this diagram covers many years, but on some applications the compressor and p/s pump are swapped. In the above 5.7 L belt diagram the tensioner (Marked with a T) is on the longest stretch of unsupported travel.
This makes the condition and the pulling force critical for proper belt operation.
Worn or weak tensioners can cause belt noise as well as improper rotation of accessories.
When operating the tensioner the travel should be smooth (not notchy) and the force required to disengage the belt should increase as you reach the travel stop. Also look closely at the unit to make sure that no looseness is present.
When to replace the engine belt

There are lots of technical formulas about
when to replace the serpentine drive belt
. Some light cracking on the face of the belt does not always mean that it's time to replace it. The strength of the serpentine drive belt comes from the smooth side or the back of the belt.
The exception to this rule is when the belt becomes noisy. The face of the belt can become glazed with no visible cracks and can cause unwanted engine belt noises. The speed at which a belt will become glazed is directly linked to the quality and materials used during manufacturing.
If your looking for a different sized motor or application I have a few more listed on my engine belt diagrams page.
For more information about auto repair visit this blogs main page. This next link takes you there from this page about the 5.7 L belt diagram.