Below I provide the Chrysler V8 belt diagram that applies to the 5.2 L and the 5.9 L V8 Chrysler engines. This belt diagram also applies to the 3.9 L Chrysler V6 that is found in many Dodge Dakota pickup trucks.
These three engines are known as the LA series engines and share many components to hold down manufacturing costs. It's nice when one belt diagram covers many different engine sizes and applications at the same time.
I was surprised that the 3.9 L V6 used the same belt diagram. Doing some research I found out that the 3.9 Liter is basically a 5.2 L v-8 with two cylinders cut off.
Belt diagram 3.9L 5.2L 5.9L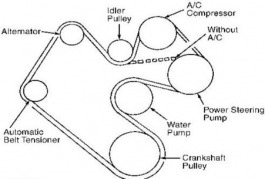 Expert Auto Repair Tip:
Take it from someone who knows...Having the
online repair manual
is a life-saver when it comes to DIY auto repair and maintenance. Whether you are working on a
Ford
,
BMW
,
Dodge
, or something more exotic; we probably have the manual you need.
Chrysler V8 Belt Diagram
The 5.2 L engine is also known as the 318 cid (Cubic inch diameter). This engine has been around for a long time. In fact it was the motor that was in my first car. This was a 1974 Dodge charger (Picture below).
Back in the day I was known as one of the Dodge boys in my General Motors training class. Out of a class of 30 students there were only three of us that drove Dodges to our General Motors training classes every day.I will include an old picture below that I scanned of my Dodge charger in case you're interested. This was the car that was responsible for forcing me to be a mechanic. When the engine hit about 110,000 miles the factory nylon timing gear stripped and allowed the Pistons to bend the valves. It was either rebuild the engine myself or start taking the bus to work.
Note that the Chrysler V8 belt diagrams above works on the 5.9 L Dodge V8 engine as well. This engine is known as the 360 CID. Also an interesting engine for me.
This is because I eventually pulled the 5.2 L 318 V8 out of my Dodge Charger and replaced it with a 360 CID police interceptor engine that I pulled out of one (of a few) totaled new police cars at a junkyard. This post is turning out to be a short trip down a long memory lane!
Since both the 5.2 318 and the 5.9 L 360 are both small blocks the conversion required no alterations or upgrades. The 5.9 L 360 V-8 engines dropped right in. Surprisingly I didn't receive much of a performance enhancement by performing the engine swap.
But it was cool when you opened the hood and looked down on the Thermo quad and air cleaner assembly that stated this was a police interceptor 360 V-8 engine.
Thanks for taking the time to listen to my story about Chrysler/Dodge V-8 engines and I hope that the Chrysler V8 belt diagram picture above will help you get your belt back on! For tips on how and why to replace it as well as tools to make the job easier visit my engine belt diagrams section.
For more of the latest posts to this website visit the online auto repair blog.