The
check engine light
is turned on when an
engine misfire
is detected because unburned fuel pouring into the exhaust manifold will cause extremely high tailpipe emissions. Also if the situation continues raw fuel entering the
catalytic converter
can cause internal damage to the catalyst.
This will also increase tailpipe emissions and will most likely lead to having to replace the catalytic converter which happens to be a very expensive part on most vehicles. For this reason computers can be very sensitive to engine misfires and illuminate the check engine light even if the problem is intermittent.
Misfire monitors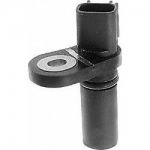 Crankshaft Sensor
The onboard computer is capable of quite complicated misfire monitoring. The engine control module uses the crankshaft angle measurement to detect this misfire. It's actually quite amazing how it is performed. Click the read more button to see how it works.
If the cylinder is providing normal power a specific crankshaft acceleration time would be monitored. When that very same cylinder misfires the cylinder does not contribute to the rotation of the crankshaft as it is supposed to.
Expert Auto Repair Tip:
Take it from someone who knows...Having the
online repair manual
is a life-saver when it comes to DIY auto repair and maintenance. Whether you are working on a
Ford
,
BMW
,
Dodge
, or something more exotic; we probably have the manual you need.
So it is actually the crankshaft speed that tips the computer off that there has been a misfire. As for flagging that misfire there is a little bit of tolerance built-in to most OBD two systems. Some will allow a random misfire rate of 2% before the misfire is flagged as a fault and the check engine light is turned on.
Although the misfire code can be helpful in diagnosis it doesn't actually tell you what the problem is. In the best case scenario a misfire code will set for a specific cylinder. This will at least aid you in diagnosing the problem as it narrows it down to one cylinder.
Misfire Code Diagnosis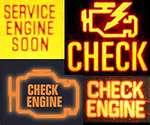 Check Engine Lights
In the case of a random misfire this may mean that multiple cylinders are detected to have problems. A random misfire can be much more difficult to diagnose. But in either case a misfire can be caused by a fuel problem, or a problem with the spark system. This can be individual coils, spark plugs or ignition wires.
The check engine light is turned on during the misfire to notify the driver that the emissions system is not functioning properly. It will be up to the individual mechanic to perform diagnosis from there to properly solve the problem. I have more on this subject at my page about engine misfire codes. For more information about what is covered on this car repairs website visit the homepage for online auto repair.