Engine belt diagrams 4.9l ford
. Replacing a drive belt without a diagram is not easy. By request I have posted a picture of the belt routing for this extremely popular Ford V8 engine.
Drive belt failures are still one of the leading causes of on the road breakdowns. Many maintenance items can now reach 100,000 miles before replacement or servicing is required.

Ford 4.9l Belt
Unfortunately this has not trickled down to the modern-day serpentine belt. Although the 4.9 liter ford engine does come with a hardy belt from the factory that I have seen go for up to 75,000 miles.
This is one reason I recommend you take a trip to the Ford parts department for a replacement.
Expert Auto Repair Tip:
Take it from someone who knows...Having the
online repair manual
is a life-saver when it comes to DIY auto repair and maintenance. Whether you are working on a
Ford
,
BMW
,
Dodge
, or something more exotic; we probably have the manual you need.
The ford factory belts in my opinion is of much higher quality then let's say a dayco made in china part. In some case the ford belt may be double the price and worth every penny.
In fact I have had some belt noise issues with the dayco direct replacement for the 4.9l ford. As a professional mechanic you really can't put a price on fixing it right the first time.
Engine belt diagram 4.9l ford
Why check the belt?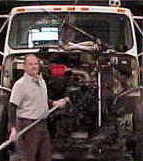 auto repair help
Checking the belt is just important today as it was on automobiles 15 years ago. I might even say that it is even more important. This is because on vehicles of the no so distant past deployed multiple drive belts driving different accessories.
If you lost one belt, depending on which one that was, you could still most likely make it to a repair shop without towing the car or truck. But the modern serpentine belt drives all of the accessories and if this belt goes you are most likely calling for a tow.
Belt tensioner 4.9l ford

Ford belt tensioner
The amount of spring force that the 4.9l belt tensioner has is impressive.
Some diy car mechanics will use a breaker bar with a long handle to overcome the strength of the belts tensioner.
The thickness and bulk of a breaker bar can be difficult to use on some models. They make a special tool that is much better than a breaker bar.
It is called a serpentine belt tool. In my opinion this is a must-have for do-it-yourself mechanics as well as professionals.
I own one that was made by the Lisle Corporation, and I use it often.
In fact mechanics that I work with asked to borrow it all the time. It makes replacing belts a lot easier, faster and also a lot safer.
Do not underestimate the power of the tensioner spring on a 4.9l ford. And for god sakes wear some eye protection.
The online auto repair home page is up next and is a good place to discover what else is covered on this website.
Additional belt diagrams are covered on the serpentine belts diagram page.
You can also learn more about the professional auto mechanic that thinks it is within reach for most people to perform some auto repairs.